Berber commander set, including Yusuf Ibn Tashfin, drummer and standard bearer
€11,95 – €174,53
How do we measure our scales?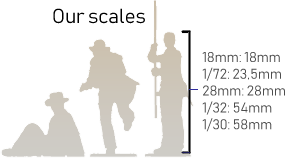 Measured from top of base to top of head
Want size a little different? No problem, please write below!
Need entirely other scale? Please mail us!
If the picture of the figure shows a base, then the figure will come with a base unless you request otherwise. If no base is shown in the picture, then you will need to request a base on the figure if you would like one.
Description
Yusuf Ibn Tashfin – Yusuf was an effective general and strategist who put together a formidable army comprising Sudanese contingents, Christian mercenaries, and the Saharan tribes of the Gudala, Lamtuna, and Masufa, which enabled him to expand the empire, onto the plains of Morocco, reaching the Mediterranean.
On October 23, 1086, the Almoravid forces, after a plea for help from, accompanied by approximately 10,000 Andalusian fighters from local Muslim provinces, decisively checked the Reconquista, significantly outnumbering the largest Christian army ever assembled up to that point and defeating them. However, due to significant losses of their own were unable to take advantage and press forward immediately following the victory
In cooperation with Caballero Miniatures
Related
Additional information
| | |
| --- | --- |
| Scale | 1/12 – 152mm, 1/16 – 120mm, 75mm, 65mm, 1/30, 1/32, 1/35 – 48mm, 1/43 – 40mm, 1/48 O-scale (36mm), 32mm Heroic, 28mm Perry, 28mm, 1/72, 1/87 HO scale (20mm), 15mm, 10mm |