Optional Extra Fee
How do we measure our scales?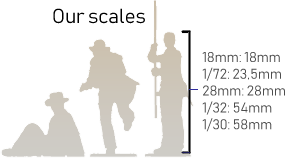 Measured from top of base to top of head
Want size a little different? No problem, please write below!
Need entirely other scale? Please mail us!
If the picture of the figure shows a base, then the figure will come with a base unless you request otherwise. If no base is shown in the picture, then you will need to request a base on the figure if you would like one.
If we ask you to pay for something extra that is not in the normal list, please use this item.