12 pdr Whitworth breechloading rifle open, unloaded
€3,30 – €14,50
New updated version, more correct measurements. Barrel separate, wheels separate.
| | |
| --- | --- |
| Scale | 1/12 – 152mm, 1/16 – 120mm, 75mm, 65mm, 1/30, 1/32, 1/35 – 48mm, 1/43 – 40mm, 1/48 O-scale (36mm), 32mm Heroic, 28mm Perry, 28mm, 1/72, 1/87 HO scale (20mm), 15mm, 10mm |
How do we measure our scales?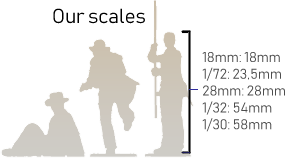 Measured from top of base to top of head
Want size a little different? No problem, please write below!
Need entirely other scale? Please mail us!
If the picture of the figure shows a base, then the figure will come with a base unless you request otherwise. If no base is shown in the picture, then you will need to request a base on the figure if you would like one.
Reviews from all figurines we made:
All 7 available poses ofcivil war to WW1 figures are one-of -a kind.I am ordering all 30+ usable poses,now!

I have many of these Speira mules in different poses in 1/32 scale and they are a terrific! I Highly recommend all their mule poses!

I have many of these Speira mules in various poses in 1/32 scale and they are a terrific! I Highly recommend all their mule poses!

I have a lot of these Speira mules in various poses in 1/32 scale and they are a terrific! I Highly recommend all their mule poses!

I have almost a hundred of these Speira mules in various poses in 1/32 scale and they are a terrific! I recommend all their mule poses!

I have almost a hundred of these Speira mules in various poses in 1/32 scale and they are a terrific! I Highly recommend all their mule poses!

I have several of these "Angry Mules" in 1/32 scale and they are a terrific pose! Highly recommend all their mule poses!

Detail fantastic 1/32nd scale. I have just placed a second order. Great stuff, keep up the good work.

This stuff is great! I really admire their products. Ever try to modify some other figures (say 1:50) into a ACW soldier? Not being able to man the models and diorama kind of lets me down. These figures can really make a difference. I am building in "O" scale, just what I needed!-Mike