It is with a sad heart that we inform our colleague and the founder of this site, Amos Ingblom, passed away from a massive stroke on the 13th December 2019.
People all around the world are glad for Amos initiative to start Speira Miniatures and his commitment to developing these figures. His extensive academic background with Masters in History, Religion and Pedagogy and his love for history shaped us. We remember his great ideas and vision, kindness, generosity and enthusiasm. A great friend and he will be sorely missed.
Our intention is to continue the legacy of Amos work in his memory, so these miniatures will live on and be the joy of many.
---
Science says about half of all strokes can be prevented, so please read this:
Check your blood pressure, rarely any symptoms. High pressure is a huge factor, the biggest contributor to the risk of stroke.
Get yourself checked for diabetes, early on no symptoms.
Also check your cholesterol level
And check and treat atrial fibrillation (irregular heartbeat)
---
"I made this line of miniatures for myself, wanting more and different poses for my army than I could find to buy out there. After creating hundreds of miniatures for myself I got to thinking: perhaps there are others enthusiasts like me who also want these? I find these models great and hope you like them too!" – Amos
These are resin miniatures (liquid plastic made solid by printing it). Printed with supports and then removed so sometimes there are small dents or bumps from where support was, so you may want to file down these or just fill it a little, depending on how exact you want the miniature. So there are some imperfections, please see image for example of what to expect. Also we have a cat, just remove the hair sometimes we do not see it 😉
We send these unpainted (the color of the plastic can vary), so you can enjoy that part!
Miniatures are not suitable for small children, say under 5 years old.
Our miniatures are built to order. It takes 2-4 weeks before we can ship your order (depending on numbers of orders and size), since this is still a hobby of ours. It's not just click and print them for us, there is a lot of work to place them and remove support, curing etc.
After printing and processing we send your package with postage and it usually takes 1 week before its arrive if within Europe and 2 weeks to the USA.
Sturdiness
I made a choice not to oversize and fatten details too much, so perhaps some details may break if you drop the figure on for example the flow. We have a mix of 30% flex that helps them to not break so easy, but they are not sturdy as normal plastic figures. They do not shatter violently into thousands of pieces, normally a thin details may break off so just glue the thin part back on again if you need. Particularly the bayonets are very thin since I didn't want oversized ones, so they do break sometimes. I myself, thinking well I want them to look good and not everyone had bayonets on so ok if some are lost. I have not had anything other than bayonets and maybe a rifle or two break off and I have hundreds of miniatures now.


What size are our 1/72 miniatures?
I have old RSM95/Pax Britannica (metal) so I made our miniatures to fit nicely to them. For you I made a comparison here with some of the brands so you can see for yourself the sizing:
Here are the numbers. Please note that the miniatures vary a bit as with normal humans: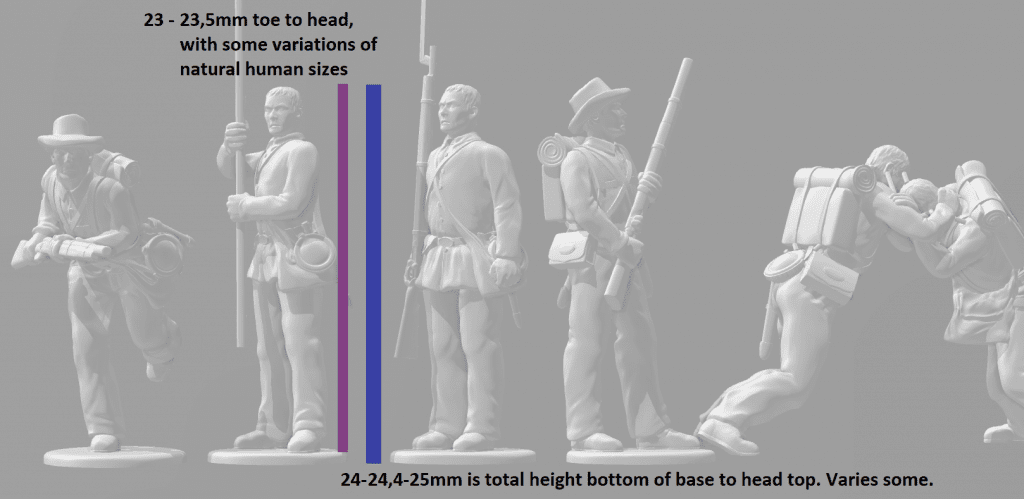 Customization?
We can do some customization of the models, just ask for price info. And no problem with other scales than 1/72, please make a request and we can probably resolve it and also calculate the price difference for you.
Do they come painted and assembled?
All of our products are unpainted. The figures are mostly single piece; there are a small number that require minor assembly for example Artisan Guild and our cannons usually require assembly
How long until I get my order?
All items are made for you when ordered, we have no stock, so it may take 3-4 weeks to produce them and them ship. Once an order is dispatched we have no control over how long it will take to reach our customers, but typical delivery times are 1-2-3 weeks but due to the current pandemic some delays do occur because of the shortage of regular flights.